Love in the A Shau
The unintended consequences of love
---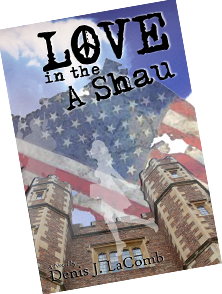 "Daniel was born hungry," Colleen said. "I had to learn to be hungry."
---
"Love in the A Shau" is the story of driving ambition and passion set in the turbulent 1960s. Daniel, a struggling college freshman, has nothing. Colleen, a daughter of wealth, has it all. Both fight society's prejudices to find themselves and an everlasting love. This untypical love story explores class in America, Vietnam, old world values, and family traditions that collide with women's newly emerging roles in society.
Book Trailer
"Could Love Hold On" - Music and Lyrics by Deb Carlson
Recorded at the Library Recording Studio,
Northeast Minneapolis, Minn.
Sneak Peak
I remember several strong independent women like Colleen in the 60s. It was fun reading and re-living her experiences if only vicariously.
- Marlene
Class exists in America. It did then, it does now. Love in the A Shau shows that love can cross any class difference.
- Connie
This story is relevant even today. Men go off to war and return to uncertainty and sometimes lost love.
-Michelle
It broke my heart to finish this book, it was that good. The story will captivate you. An excellent read.

- Denise